Amazon Prime Video cost is a relevant data when it comes to get this streaming service, this cost can vary due to different factors that we will present below.
What is Amazon Prime Video?
Amazon Prime Video is currently one of the most popular streaming services. After the rise of Netflix as the main streaming service provider, many platforms have emerged in the same direction, with Amazon Prime Video being one of the most important alongside the red giant.
Prime Video currently has an extensive catalog with more than 1500 titles between movies, original programs and series. From popular movies, to originals such as "Coming 2 America" and "Borat 2", to exclusive programs such as "The Boys". 
In addition to its large library of content, Prime Video includes Prime Video channels. This feature allows access to popular channels to be added for an additional monthly fee. The streaming service also offers a selection of live sports, such as NFL Thursday Night Football. 
The cost of Amazon Prime Video may vary in each country, due to different factors and even in circumstances that do not depend on Prime Video, such as the conversion of its prices to the currency of each country, the tax that each country has on these platforms or inflation itself.
Currently, in Colombia, Amazon Prime Video has a monthly cost of 17,900 (COP).
The Prime Video membership includes:
Watch content on up to 3 screens simultaneously.
The "group video" feature allows you to chat, watch the same movie or series simultaneously with another screen.
Download Prime Video content to watch later on your iOS or Android device, without internet.
Additional content about your movies and series, such as biographies, interviews, photos and exclusive videos.
Amazon Prime Video Plans and costs
Amazon Prime Video plans can be annual or monthly, here are some of the most stable rates:
United States:
Prime Video per month: 8.99 (USD)
Prime Video per year: 119 (USD)


Colombia:
Prime Video per month: 17,900 (COP)
Prime Video per year: 178,000 (COP)


Peru:
Prime Video per month: 16.99 (S/)
Prime Video per year: 117,8000 (S/)


Chile:
Prime Video per month: 4,165 (CLP)
Prime Video per year: 48,700 (CLP)


Brazil:
Prime Video per month: 9.90 (BRL) 
Prime Video per year: 89.00 (BRL)
Mexico:
Prime Video per month: 99.00 (MXN)
Prime Video per year: 899.00 (MXN)


Spain:
Prime Video per month: 3.99 (€)
Prime Video per year: 36 (€)


If your country is not listed, it is because Prime Video prices are not as stable as in the countries mentioned.
Currently, the cheapest and easiest way to get the best price on Amazon Prime Video is to buy Gift Cards.
What are Amazon Prime Video Gift Cards?
Amazon Prime Video Gift Cards are currently the best payment alternative to activate your streaming account on this platform.
Gift Cards are alphanumeric codes sent to your email that you can redeem on Prime Video to activate or renew your subscription in a matter of seconds.
If you want to give away or even sell an Amazon Prime Video account, it is more practical to purchase a Gift Card than to buy an account.
Where to buy Amazon Prime Video gift cards?
This time we want to recommend you to buy your Amazon Prime Video Gift Cards through our platform Bixuss.
In Bixxus we are a platform with a wide catalog of digital products, among them, we offer you Amazon Prime Video Gift Cards.
Here we show you how to buy them:
3. Make the payment. In the payment options, we offer you to pay with Bitcoin or the Cryptocurrency of your choice.
4. Once you have made the payment, you will receive in your email the Gift Card or codes that you must redeem on the Prime video page.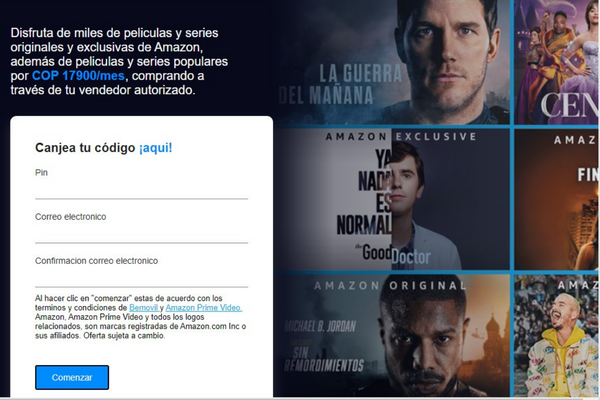 5. That's it! That's how easy it is to get Amazon Prime Video Gift Card with Bixxus
Amazon Prime Video cost at Bixxus are much more affordable and accessible, we invite you to buy prime video Gift Cards on our platform, and enjoy all the benefits that Prime Video has for you.